Soft Voices Whispering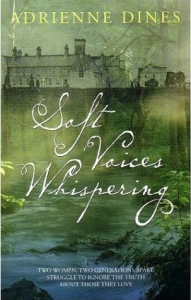 And she shook her head to block out the noise.  Outside, the bell was ringing and the footsteps of more than a hundred children clattered into place by the front door but Pius could hear none of it.  The sound in her head was the sound of water, the sound of a stream rushing about her ears and the touch of a finger moving slowly down her body as a soft voice whispered, Slut.
When Eleanor Morrissey leaves Kildoran on a dark September night in 1930, nobody is sorry to see her go and nobody expects to see her return. As far as the villagers are concerned, the Morrisseys have been shamed out of town forever. Fifty years later, some visitors attend the funeral of the convent's Mother Superior. When the funeral is over, one woman stays behind. Until she is free to leave again, she must struggle to understand her legacy – a legacy of voices. Threatening, angry, accusing voices that only she can hear, because they are soft voices. Whispering.
Adrienne says…
As a cradle Catholic I never questioned the authority of the women who controlled my education. These were God's wives, above question, certainly beyond criticism. Then I grew up and the questions began.
It is fashionable now, not just to ask the questions but also to call to account. I don't need to do that. There were great women and there were awful women and they both played their parts.
What is the theme of the book? I suppose it's to do with fear of the truth and the fact that until we face up to it, we can never find peace. It's about why we hide things from others and ourselves. Penance and Redemption and a good story well told!
Reviews
The third book from Dublin-born Adrienne Dines, Soft Voices Whispering will appeal to anyone who can't wait until the next Maeve Binchy comes along. Adrienne Dines is a name to watch out for in the future. - RTE Entertainment
I loved the intertwining of sombre gothic elements with strands of comedy. Also the evocation of a bit of Ireland I've visited a few times now you know all these stories are bubbling away in these communities and are never but never going to reveal themselves to you. Your dialogue zips along too and I kept thinking how well it would work on the radio. Has anyone at Transita sent it to Woman's Hour? It would serialise wonderfully!  - Patrick Gale
This redemption tale of good people who have bad things done to them is a well-written page-turner with wonderful characterisation.  - Nottingham Evening Post
"Another compelling read from Adrienne Dines. Among a gallery of memorable, well-drawn characters the nun, Sister Pius, stands out as a moving creation. Pius' relationship with her ne'er-do-well brother Patrick is a miracle of subtle characterisation and there's much food for thought here for reading groups.
Hard to put down and impossible to forget, this is a book with a big heart. " - Amazon Review
"I read this book on holidays and was annoyed at having to put it down to do holiday activities with my family. This is one of those special books that you get lost in. It is in my top five books ever read and I loved every page right from the start. Adrienne, I look forward to more". - Reader review on Transita Website
The basic business at the core of this book is a difficult topic– violence to women. Adrienne Dines handles it well, though, with sensitivity to both the characters involved and to the reader. This is a novel about love, both the light and dark sides of it. It is set in a small village in Ireland and the story moves between 1980 and 1930. The characters are well drawn and unfold like early spring blossoms to reveal their fullness as the story goes on. Well done!  - Bookcrossing Review 5*