The Jigsaw Maker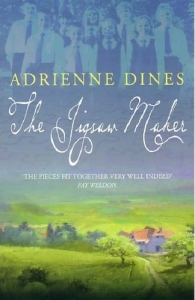 "One click of the shutters and all the memories stir and rise and glide slowly towards the light outside…and when the shutters close and they are packed safely, he'd stuff them in his satchel… oblivious to how much his passion for capturing memories was going to cost.  And who'd have to pay the price."
When stranger Jim Nealon walks into Lizzie Flynn's shop and proposes that she help him make his beautiful jigsaws, Lizzie agrees. It's a project she can fit into her humdrum life without making too many changes. She's about to turn fifty – she could do with the distraction.
Then Jim shows her the photos he intends to use.  Now the settled picture that was lizzie's life is in the air. Falling in a thousand different pieces.  As she scrambles to put her life back together again, Lizzie is startles to realize that it can't be done.  It was never a whole picture anyway. Too many of the pieces didn't fit. And one piece is missing…
Adrienne says…
Who is The Jigsaw Maker? It could be any one of three people.
It could be Jim Nealon, photographer, who with his keen eye has noticed something about tourists:  what they come to look at and what they come to look for are two different things. What they look at are the places their ancestors looked at too – grand cathedrals, castles – the pieces of our common heritage.  And the pictures of these they take home in their cameras. What they look for are the private places, the places where their ancestors lived, belonged, died and the pictures of those they take home in their hearts.
Jim's idea is to capture the image of these hidden places and make jigsaw puzzles with them.  Then he'll sell with it a living memory of what it was like to be there, on a particular day, during a particular year. And the year he chooses to recall is 1969, when Lizzie Flynn was 11 years old.
It could be Lizzie Flynn, shop owner, spinster, who lives a very settled life in the village where she was born.  Every event in her life that touched her became part of the picture of who she is and those events are locked in her past like the pieces of a tight- fitting jigsaw.  She intends to keep them that way – till Jim shows her the first photograph and then it's too late.
In trying to recall a memory so that others can feel part of it, Lizzie is forced to re-examine her own memories and what she realises is that what she saw then is not what she is seeing now.  There are flaws in the jigsaw picture of her life; pieces are in the wrong place and one vital piece is missing.
Lizzie Flynn is not who she thought she was at all.
Before assembling a jigsaw, all the pieces have to be visible and that's how this book works.  The reader is shown all the events that shape Lizzie's perception of who she is exactly as she witnessed them and it is up to the reader to work with her as she tries to put it all together again.
Ultimately, the reader is The Jigsaw Maker.
Reviews
The pieces fit together very well indeed.' - Fay Weldon 
'A brilliant follow up to Adrienne Dines' debut Toppling Miss April… Well plotted and very enjoyable.' - Lovereading.co.uk
'This seemingly light novel has a dark underbelly – a complex tale of secrets and lies.' - Irish Examiner 
'An engaging story.' - Newbooks Magazine 
'A seemingly light book till dark undercurrents, secrets and lies from the past resurface and shake the foundations of Lizzy Flynn's quiet life – what a treat!'   - Heavenali BX
'Loved this book.  As the dual narrative of past events began to unfold, I became completely involved in the novel and the raw and painful emotional life of Lizzie Flynn.' 9/10 - LindyB28 BX
5* Amazon Reviews
'This book was a delight to read, it is wonderfully written and the characters really came alive as the story progressed. It was compelling right from the start but towards the end it became a real page-turner as I was anxious to know what was lying ahead. There were so many unexpected twists too!'
'Put this one down if you can – THE JIGSAW MAKER intrigues at first, then amuses. Finally it grabs you by the throat and doesn't let go. A tender portrayal of a lively, troubled child who grows into a guilt-ridden woman, unable to make sense of tragedy she has witnessed, possibly even caused. Dines juggles comedy and drama with ease, racking up almost unbearable tension in the last 100 pages. The plot is clever, the characters likeable and the pace never flags. This is a hugely enjoyable and accomplished 2nd novel and I can't wait to see what Dines will come up with next.'