Toppling Miss April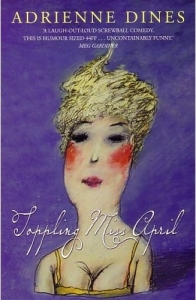 'Monica Moran was not the woman she used to be. Or rather she was not just the woman she used to be.  She was at least one other woman as well and their combined weight sat heavily on her overburdened bones. Where her breasts had been generous twenty years ago, they were now magnanimous, munificent… she leaned forward to negotiate the bottom step and Bernadette couldn't help clucking in disapproval.  The woman was a disgrace.  If that cleavage was any closer to the ground you could stand a bicycle in it…'
Twenty years ago, when Father Barry ruled the Tullabeg roost, Bernadette Teegan and Monica Moran vied for his attention. Life was a maelstrom of mixed emotions and misplaced extremities – two young girls with plenty to learn. Then Monica went away and life settled down.
Now Monica is back.
And Bernadette has no intention of making it a happy visit. She has plans – to snare the most eligible bachelor in town, Cormac Hegarty, Estate Agent, and keep nephew Michael's soul (and overalls) spotless.
But Monica has plans too.
A comedy of errors, misdirection and cross-wired agendas, TOPPLING MISS APRIL is a triumph of flesh over fantasy, where menopause is just a pause between men and experience counts for everything.
Adrienne says…
The original remit for this story was to write something' upbeat and outrageous' that would serve to get attention as a first novel. I planned to write a murder story. The first line would be 'Imelda Hegarty had six brothers and at the age of 50 realized that Monica Moran had had them too.'  Then Monica and Imelda would travel around Ireland ascertaining to what extent association with Monica destroyed the lives of each of the brothers.
Unfortunately, Bernadette Teegan had other ideas.
She was only ever a bit-part character, useful for making tea but when she squeaked onto the page in her Hush-Puppies it was out of my hands. It became a twisted love story, a tale of two beautiful women, rendered beautiful not because of what others saw when they looked at them but what they realized when they looked at themselves.
'Miss April", the conventional idea of what makes a woman beautiful, is well and truly  toppled.
Reviews
'A cross between Father Ted and Ballykissangel…hilarious!' - Irish Examiner
'Toppling Miss April is a mélange of hilarious misunderstandings and risqué innuendo, which makes it a pleasure to read.' - Ireland on Sunday
'A laugh-out-loud screwball comedy featuring lust, mistaken identity and knitting. This is humour sized 44FF: uncontainably funny.'  - Meg Gardiner
'An outrageous tale – a ridiculous riot!' - Irish Independent 
'At last – a REAL book for real women who've lived long enough to know that love is never perfect. This funny-sad Irish novel will restore your faith in human nature and make you realise that the wobbly bits don't matter!'  - Sharon Kendrick 
"…great opening, clever plotting and lovely characterisation…"  - Marina Oliver
"Full of wonderful characters… I laughed out loud!" - Jan Simpson
'Loved this book.  The plot was not one bit believable and every stereotype under the sun made an appearance at some point – a good read in a carry on sort of way!' 8/10 - Smallbluepebble BX
'Pure farce. The complex plot was lightly woven and carried out admirably…a good rollicking funny read with enough twists and turns to satisfy the most demanding reader with the small details beautifully observed.'  - Lizzybee BX
'This is a laugh-out-loud read. Misunderstandings & misinterpretations abound, some very unsympathetic characters but I felt this just added to my reading experience.'  9/10 - scotsbookie BX